When Rocket Central Senior Trainer Amy Wright decides to give back, she goes all in, regularly volunteering at one of the hundreds of nonprofit organizations we support. "I enjoy helping others, and I really love that Rocket Companies supports and encourages Team Members to volunteer," she said. "We have so many different opportunities to volunteer and it's really easy to get involved." Recently, Amy connected with an exciting new virtual volunteer opportunity mentoring students through the Center for Success.
The mission of the Center for Success is to unite community and literacy to empower students on their educational journey. They offer a variety of collaborative programs, mentorship sessions and literacy interventions to support students.
The volunteer opportunity offered to Rocket Companies team members was to become a literacy mentor, tutoring students in the Center for Success network for one to two hours on weeknights. As a former teacher, Amy knew this was the perfect opportunity for her skills and experience.
A Meaningful Mentorship Experience
After attending an orientation session, Amy was paired with an eight-year-old third grader at a local Detroit school. As a Center for Success mentor, Amy had access to a vast digital library of approved resources she could use for her Tuesday evening mentorship sessions. During this time, Amy and her student would chat, read together and play word games. "My student was very good at math and loved science, nature, and animals, so I tried to find books on those topics that would interest her," Amy said.
An important part of the mentorship experience is building a strong relationship and fostering a love of learning in unique and engaging ways. "My student loved cats. When I told my student I had three, she immediately wanted to see them all. One time I put my cat Peanut on the couch in my office so she could read out loud to him." The experience was fun for Amy, too. "For our last session together, I chose a Mad Lib for us to fill out. I put up a fun, virtual background featuring a silly looking llama. My student loved my llama and immediately named him Calvin. As we chose the words to complete the Mad Lib, we started to weave a story about her mom hanging out beside a swimming pool with Calvin the llama and drinking smoothies. We had so much fun! The best part was at the end my student showed me the picture that she had drawn of me and my llama. It was super cute, and she did a really good job. She even drew me with my headphones on."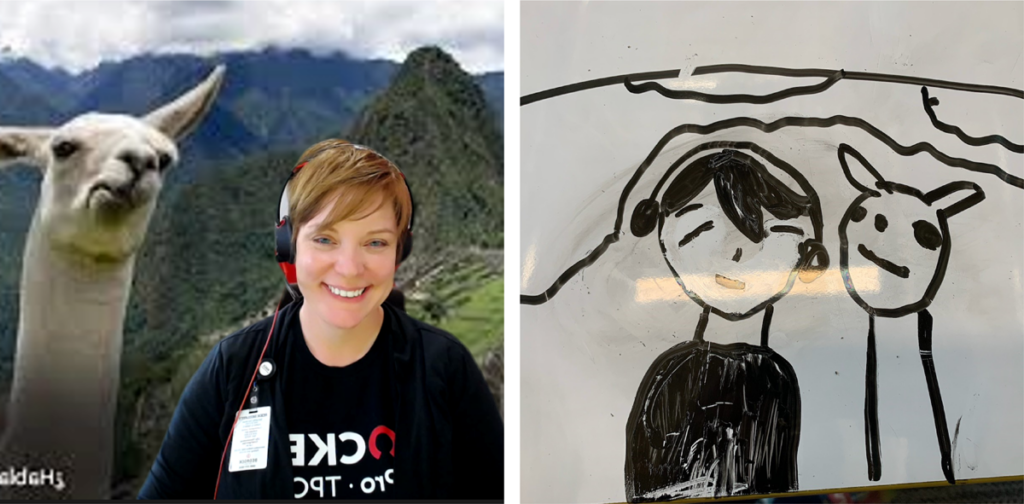 The mentorship experience with Center for Success was so positive that Amy hopes to work with the organization again, in addition to exploring other volunteer opportunities. She likes the flexibility of both one-time and ongoing events, and the Rocket Community Fund offers both in person and virtual experiences to fit every schedule. Amy is looking forward to racking up more volunteer hours so she can receive a grant through Dollars for Doers, our volunteering rewards program. Team members who volunteer a certain number of hours receive a grant they can donate to a nonprofit organization of their choice. "I love that I can support the organizations and charities that matter to me with an additional donation," she said. Currently, Dollars for Doers is offering team members a $50 grant for volunteering just five hours per calendar year. If Rocket Companies team members volunteer 60 or more hours a year, they can earn up to $450 in grants to donate to the nonprofit organization they're passionate about supporting.
We created these programs and opportunities to give back to support team members like Amy, who are dedicated to making a meaningful difference. "I had such a great experience with Center for Success, I really bonded with my student. And I love how Rocket Companies makes it so easy to support our communities. It's so important that we invest our time and resources in the places we live, work and play – so that residents have more opportunities to thrive."
July 20, 2022