Editor's note: This post was originally published on August 24, 2021 to announce the finalists for Detroit Demo Day. It was updated on September 20 to announce that voting is open for the People's Choice Awards. Click the button or visit Detroitdemoday.com to watch the pitch videos and vote. 
Rocket Mortgage Detroit Demo Day is back, leaner and more impactful than ever before. The 15 finalists were announced in late August, and voting is now open for the People's Choice Awards. People's Choice winners in each category will walk away with $25,000. Voting is open until September 24, 2021. All winners will be announced on the Detroit Demo Day Instagram page via Instagram Live. Click the button below to vote now.
The annual pitch competition invests more than $1M into Detroit-based, early-stage companies with an ambition to scale. It is one of the largest of its kind in the U.S. Detroit Demo Day celebrates Detroit entrepreneurs while attracting diverse businesses to further support the entrepreneurial ecosystem in the city.
"Rocket Mortgage Detroit Demo Day personifies our commitment to catalyzing Detroit's entrepreneurial ecosystem and building neighborhood wealth," said Laura Grannemann, Vice President of the Rocket Community Fund. "Access to equitable capital is more important than ever. Providing significant grants to all finalists allows them to invest in their future and puts them on a path to success."
The 15 finalists, representing a broad segment of industries, were chosen by a diverse panel of Detroit-based entrepreneurs and business leaders. This year's finalists include 12 Black-owned businesses, and more than half of the finalists are woman-owned. The selected businesses will be judged by a panel composed of acclaimed entrepreneurs and past Detroit Demo Day winners.
In addition, every finalist will walk away with funding. This year, each finalist will be awarded a $25,000 grant to ensure that they can continue supporting their business.
Last year, the categories were redefined and expanded to meet the rapidly evolving needs of entrepreneurs during the pandemic. This year's competition was further modified to include four categories: Start, Pivot, Scale and Youth. One winner will be selected for each category.
The Youth category was created to foster the ambitions of young entrepreneurs with capital and supportive resources to set them up for early success. Businesses in the Youth category are for emerging entrepreneurs aged 8-18 that are looking to start or scale their business.
The following companies will be competing for more than $1 million in funding: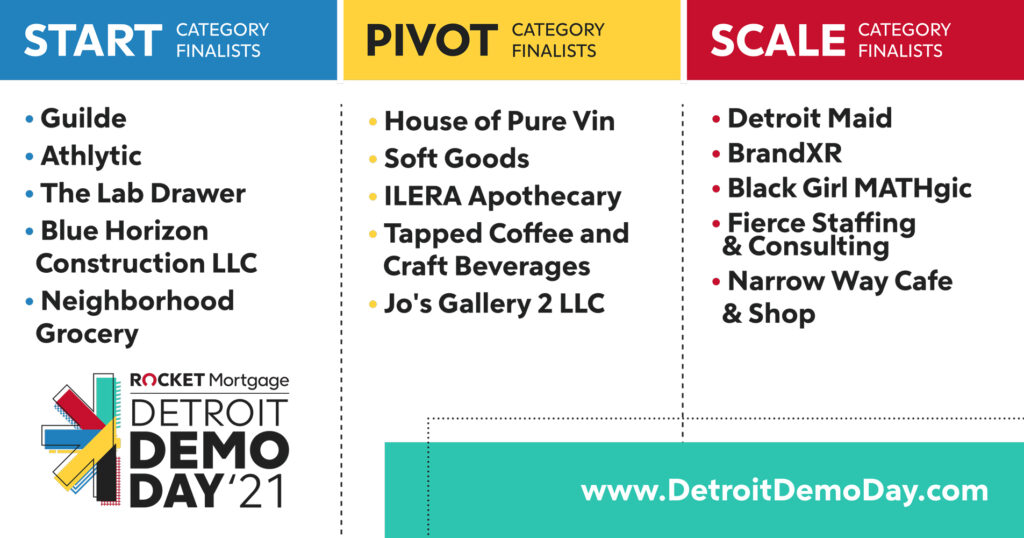 Start Category - $125,000 prize
Pivot Category - $200,000 prize
Scale Category - $250,000 prize
Youth Category - $10,000 prize
Camani – Artistic and luxury fashion
MT's Customs LLC – Custom designs
Anansee – Storytelling assistance
Global Kid Media CEO – Telling next generation's stories
Carter's Concessions – Healthy snacks
As mentioned, finalists will also be competing for the People's Choice grant within their category worth $25,000 and voting is now open.  Voting for the People's Choice awards will will close on September 24. Visit the Detroit Demo Day website and watch the pitch videos in each category to vote for your favorite business.
"With this year's Detroit Demo Day, we are excited to celebrate the newest cohort of winners, while also reflecting on the impact of this work over the past five years." said James Feagin, Director of Entrepreneurship at the Rocket Community Fund. "Detroit has top entrepreneurial talent, and we are thankful that this platform has been able to elevate them and help them take their businesses to new levels."
The Rocket Community Fund's Entrepreneurship Team provides critical ongoing support, networking opportunities and mentorship to Detroit Demo Day alumni, positioning them for long-term success.
August 24, 2021