The Rocket Companies Community Challenge is more than a company-sponsored fundraiser. It's a vehicle for change – driven by our team members – that makes a meaningful impact on the communities we call home.
Since 2016, the Rocket Community Fund has hosted the Community Challenge, which empowers Rocket Companies team members to nominate, advocate and fundraise for the nonprofits they personally care about. Team members are encouraged to invite their friends and family to join. Since the nonprofit organizations are supported by our team members, the experience feels personal. To date, the Community Challenge has raised over $8M for nonprofits across the country.
"The Rocket Companies Community Challenge is special because it empowers communities to come together, turning collective compassion into tangible change," said Denine Ngoyi, Program Manager, Team Member Giving at the Rocket Community Fund. "The Challenge reminds us that even the smallest contribution, when multiplied, can create a world of difference."
For 2023, the Community Challenge raised $1,366,444, which exceeded last year's grand total. Take a look at the nonprofit organizations that raised the most in each market, and learn more here.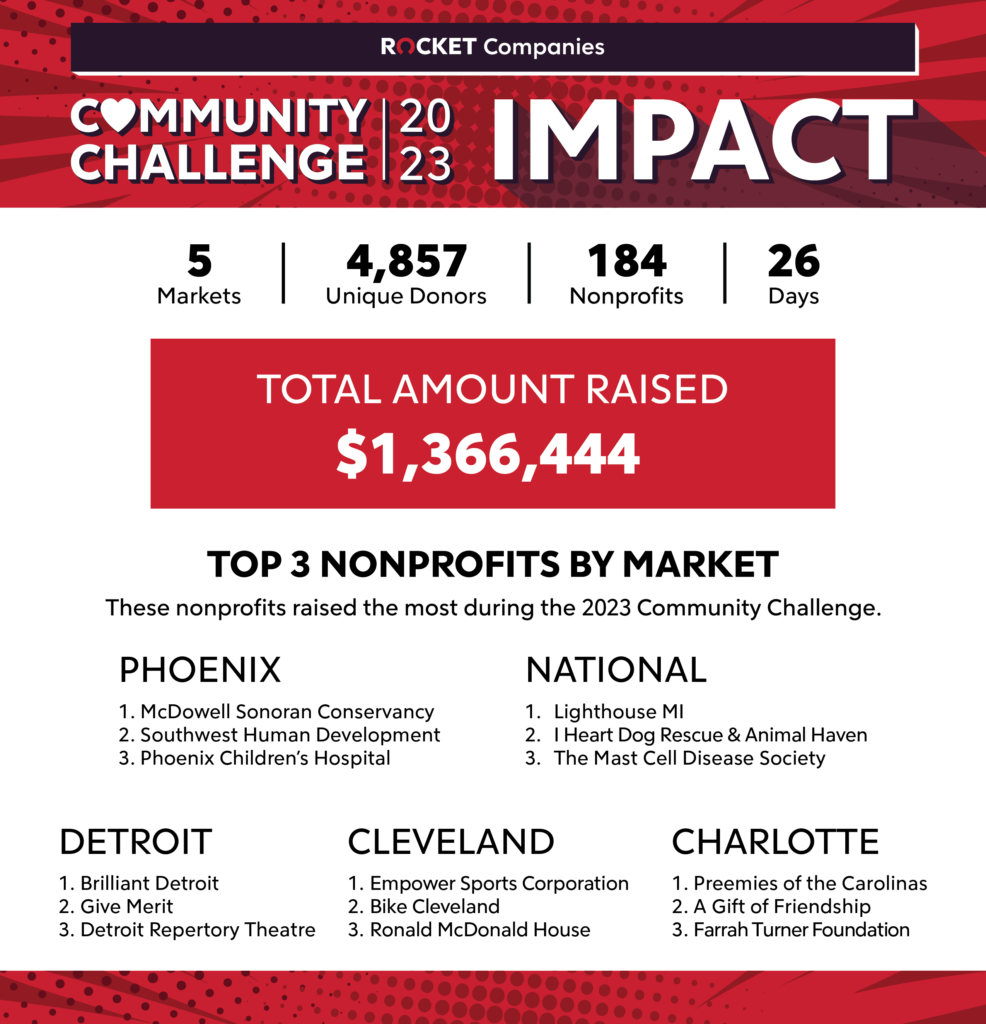 This is another big milestone for Rocket Companies in terms of community efforts driven by team members. In June, we reached 1,000,000 volunteer hours nationwide. We were also recognized as #2 on PEOPLE Magazine's list of 100 Companies That Care in 2023: Employers Putting Their Communities First. Overall, Rocket Companies' team member participation rating for our community efforts is at 60% – nearly double that of the average corporate engagement rate, which is 33%.
The Rocket Community Fund team is proud of the way our team members show up to support our communities every single day. We will continue to find new ways for our team members to engage with the community, supporting and advocating for nonprofits that are making a meaningful difference in the lives of residents across the country.
October 18, 2023