The Rocket Community Fund was honored to host University of Michigan graduate Cydney Gardner-Brown as an intern for the summer of 2021. This article recaps Cydney's experiences with the team and the Rock Family of Companies in the context of our company's ISMs, the philosophies we live by that drive our decision-making and are the heart of our culture.
During my 2021 summer internship with the Rocket Community Fund (RCF), I learned a lot about the culture of the Rock Family of Companies (Rock FOC) and their ISMs. To an outsider, the ISMs may seem like just a bunch of phrases. But this summer, I saw for myself how Rocket's ISMs have a palpable and integral impact on the culture of inclusion and open mindedness in the FOC. I spent a lot of time throughout my internship thinking about which ISMs are my favorites (there are 20 of them!) and I'd like to share which ones resonated with me the most:  
As a recent college graduate, no one warned me how awkward integrating into a work environment could be. There were moments when I would freeze or be convinced that I was not qualified to share my perspective. Despite this, I was always welcomed and encouraged at the Rocket Community Fund to not only contribute to the work but to become wholly a part of the team. At every turn I was met with opportunities to learn and grow into my role, and by the time the summer was over, I realized that I was more than equipped to thrive no matter where I ended up in my career. It took a summer of learning from amazing and genuine individuals who are just like me to recognize that all the awkwardness, doubt, and side effects of imposter syndrome were just noise. I learned to ignore the noise, focus on what mattered, and persevere at RCF.  
This summer I had the opportunity to be a part of so many amazing projects like the creation of three different videos featuring the artists, sports zone, and the Rollercade at the Monroe Street Midway, in collaboration with Bedrock. This project helped illustrate the importance of creating usable, central, and accessible public spaces for everyone and empowering Detroit's Black artists in an accessible way. Being a part of this work gave me the opportunity to find space for my own desires to be creative and forward thinking while also uplifting our local community and the FOC.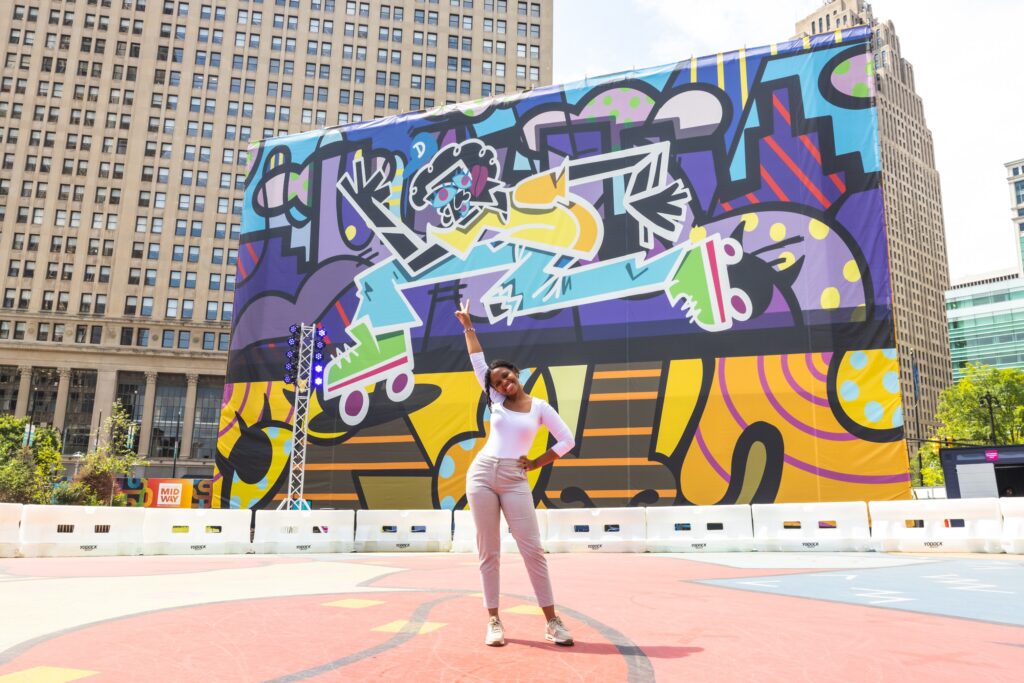 I also worked on creating a sustainable and productive content strategy for Connect 313, a data-driven inclusion strategy driven by the City of Detroit. Connect 313 works alongside several organizations to expand accessibility to technology and other resources to close Detroit's digital divide. Their goal is to bring digital resources and high-speed internet to every Detroiter. Through my experiences supporting Connect 313 and the larger RCF team, I was always encouraged and even expected to share my ideas and take lead when appropriate. I  was always treated like a valued team member whose contributions were appreciated.  
There were no boundaries to my inclusion in the work because I was a part of the "they", even as an intern. I was incorporated into the RCF team as a valued piece of the larger puzzle because we were in a space that believes that everyone and their perspectives are important and integral to forward movement. We really are the "they" here at the Rock Family of Companies. It's more than just a phrase.  
And finally…
Always Raising Our Level Of Awareness 
Throughout my internship, I saw my hometown of Detroit through a new lens. This fresh perspective allowed me to see the vision driving my teammates at Rocket Community Fund: a Detroit that can be diverse, inclusive, and accessible for all. I witnessed passion in my team members that I didn't know existed at the corporate level, as well as a dedication for equity and lasting impact that I found inspiring.  I formed connections with people who not only want to help Detroit thrive but are doing it by coalescing with the community, empowering local businesses, and putting the needs of Detroiters at the center of everything they do.
Every day in our meetings or in conversation, the folks at RCF are organizing and thinking of ways to be better for the people of the communities they serve. They are talking to leaders and forming partnerships with municipalities. Above all else, at RCF they are always looking for opportunities to learn and become more aware of the issues Detroiters face like homelessness, housing, public parks, and digital inclusion; all while searching for solutions to these multi-faceted challenges along the way.  
This is why I feel so powerfully that the ISMs are more than just phrases. I saw them working in real-time, in an environment inspired by team members who lived them every day, forward-thinking people who were committed to creating a sustainable culture that inspired me and the communities they support. I'll never forget the change they inspired – or how they changed my perspective.
Thank you for an amazing summer!  
Cydney Gardner-Brown 
September 23, 2021