Nothing quite captures the spirit of summer like the smell of fresh-cut grass and the sharp crack of a baseball hitting a bat. Unfortunately, for the residents of Detroit's Southwest community, this quintessentially American pastime was placed at risk when several individuals rode ATVs and dirt bikes on the baseball diamonds at Clark Park.
An important part of the Rocket Community Fund's mission is our commitment to safe, inclusive public spaces, so when we heard from our partners that the diamonds needed renovation, we quickly stepped up to provide our help.
"Clark Park is a beacon of pride for Southwest Detroit," explained Coach Juan Sanchez, the Athletic Coordinator and Head Varsity Baseball Coach at Detroit Western International High School. "Baseball and softball are a huge part of what keeps our kids engaged in positive activities. When you to take that away, it could mean the difference between losing a kid to the street or keeping him engaged."
Between camps, practices, and games, the Clark Park diamonds are typically used from March until November. Not having access to them simply wasn't an option.
"Sports are a great example of the kind of inclusive and fun activities that bring our community together, especially our youth," said J.J. Velez, Director of Public Spaces for the Rocket Community Fund. "We wanted to make sure not only that kids had a place to play, but that the diamonds were renovated thoughtfully and with the community's input in mind."
Alongside the City of Detroit's General Services Department, the Rocket Community Fund provided the funding necessary to complete the repairs in time for the baseball season to begin. Our very own J.J. Velez helped ring in the new diamonds by throwing out the first pitch at a recent game. The teams showed their appreciation by presenting him with a commemoration plaque.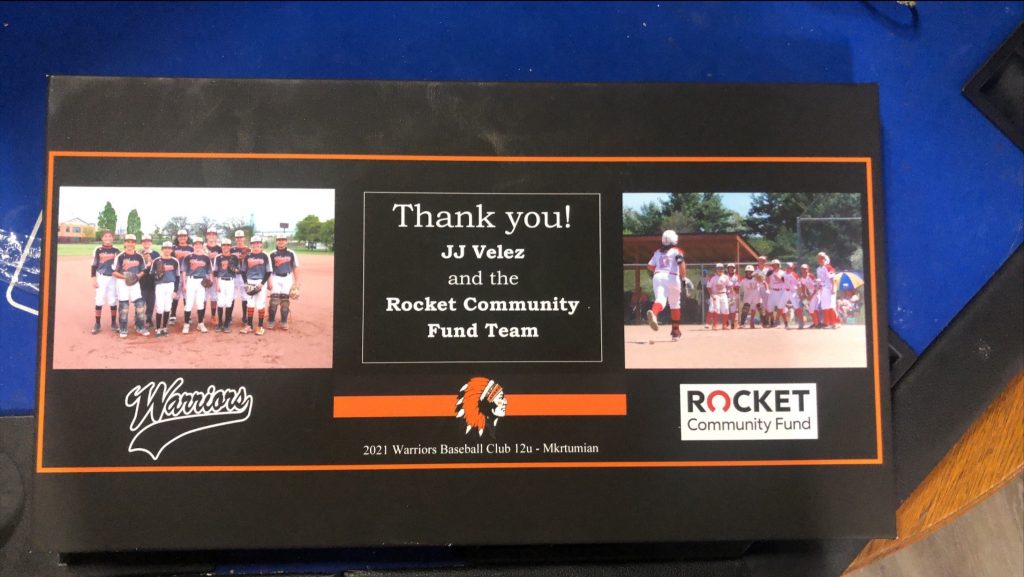 The impact of the investment immediately resonated with Coach Sanchez and the athletes who would be using the fields. 
"What a heavy burden lifted off of not only my shoulders but our kids," said Coach Sanchez. "Telling them someone was going to help us with our issue was a great day. They already lost last season and then to have our fields ruined was heart breaking, but thanks to Rocket Community Fund it was pure joy!"
Check out the image below to see the amazing transformation of the baseball diamonds.
Every resident in our communities, but especially youth, deserve safe places to play, connect, and enjoy the kind of experiences that lead to lifelong friendships and memories. We're proud to deliver this opportunity to the residents of Southwest Detroit.
June 10, 2021