Small business is the backbone of our economy and a core part of what makes Detroit an entrepreneurial city. At the heart of each small business is a passionate entrepreneur. The Rocket Community Fund is dedicated to supporting these entrepreneurs and strengthening the entrepreneurship ecosystem in Detroit in a variety of ways.  One example is Rocket Mortgage Detroit Demo Day, an annual pitch competition that invests over $1M annually into Detroit-based companies. Since 2018, we have invested over $4.4M to support these winning Detroit small businesses.
The thing that makes Rocket Mortgage Detroit Demo Day such an incredible event, besides the capital it pours into innovative small businesses, is how it sets up participants for future success. Just look at the story of Cynthia Davis, owner of Cynt-Sational E.A.T.S, and creator of The Cynt-Sational Popcorn Co.
From Humble Kernels to a Popcorn Craze
In 2018, Davis was among the 15 finalists selected to bring her gourmet vegan food business to the Detroit Demo Day stage, and the judges were swayed by her pitch – and her popcorn.  Davis walked away with a $150,000 interest-free loan in the "Grow" category, along with a $25,000 prize when the audience selected The Cynsational Popcorn Co. as a People's Choice winner.
A vegan chef and the mother of three boys, Davis had started creating her famous vegan popcorn back in 2013 as a way to bond with her sons while also providing them with a healthy treat in their lunches. When her sons' teachers began snacking on the popcorn and begging to buy some, Davis took it as a sign to test the market – literally. Her homemade popcorn became a hit at local farmers' markets, quickly selling out as she gained a loyal following who were enthralled by the fact that the tasty popcorn was actually healthy.
Soon after, Davis began selling her popcorn at a few big box stores like Whole Foods which opened her eyes to the possibilities of where she could take her product. Winning Detroit Demo Day in 2018 gave her the ability to push forward with renewed zeal. It was a major milestone for Davis, who only months prior had unexpectedly lost her husband.  "We knew [my husband] was with us, cheering us on," said Davis.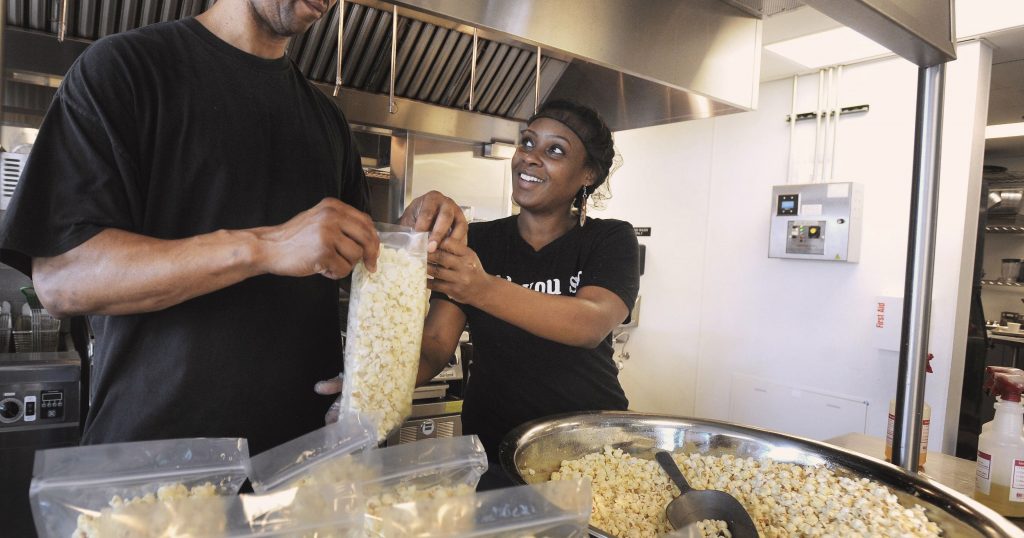 Detroit Demo Day Nurtures Critical Relationships
The $150,000 loan and prize money helped Davis expand her operations, including the purchase of new equipment to make production more efficient and a commercial van to make deliveries. But the Detroit Demo Day experience also opened a host of new opportunities, thanks to the dedicated support of the Rocket Community Fund's Entrepreneurship team who worked behind the scenes to lend support and make connections.
"There are a lot of opportunities out there for entrepreneurs to gain access to funding, but it often stops there," Davis explained. "With Detroit Demo Day, the team continuously works with you over the years, to offer support and resources, and to provide direction. It's almost like they have a safety net to catch you before you fall. It's empowering. They say, 'we're here to support you. If you need us here, we're going to be here,' and they've shown it. That part is so impressive to me – it speaks volumes."
This relationship is pivotal in enabling Davis and other winning entrepreneurs to build, scale, and promote their businesses. Davis' relationship with the Entrepreneurship team led to several big projects within the Rock Family of Companies.
Popcorn for 30,000 People (And A Whole Lot More)
The Rock Family of Companies invited Davis and other vendors to give out samples of their products at their Detroit headquarters during Valentine's Day in 2019. Hundreds of team members were able to taste her product for the first time and Davis was able to foster new relationships with potential customers and buyers as a result. This experience led to her biggest order yet when the company decided to include her popcorn as part of a gift box that was being sent to roughly 30,000 team members for the Rock Family of Companies 35th anniversary last year.
Davis had always been on the creative side of the business, so the order was a decidedly new and challenging experience for her. "I went from making popcorn in my kitchen to learning how to be a CEO, and the FOC putting me in the driver's seat with my seatbelt half buckled," she said, laughing. "The logistical side was a real learning process, but since this was the biggest opportunity to provide my product to such a huge number of people, I did not see failure as an option."
In order to fulfill the order, Davis and her staff worked around the clock in shifts to produce 6,000 bags of popcorn a day leading up to the event. "We had a blast making the products. My energy was love and my team fed off that energy, and because of the excitement of this order and what it meant for my business, we kept going."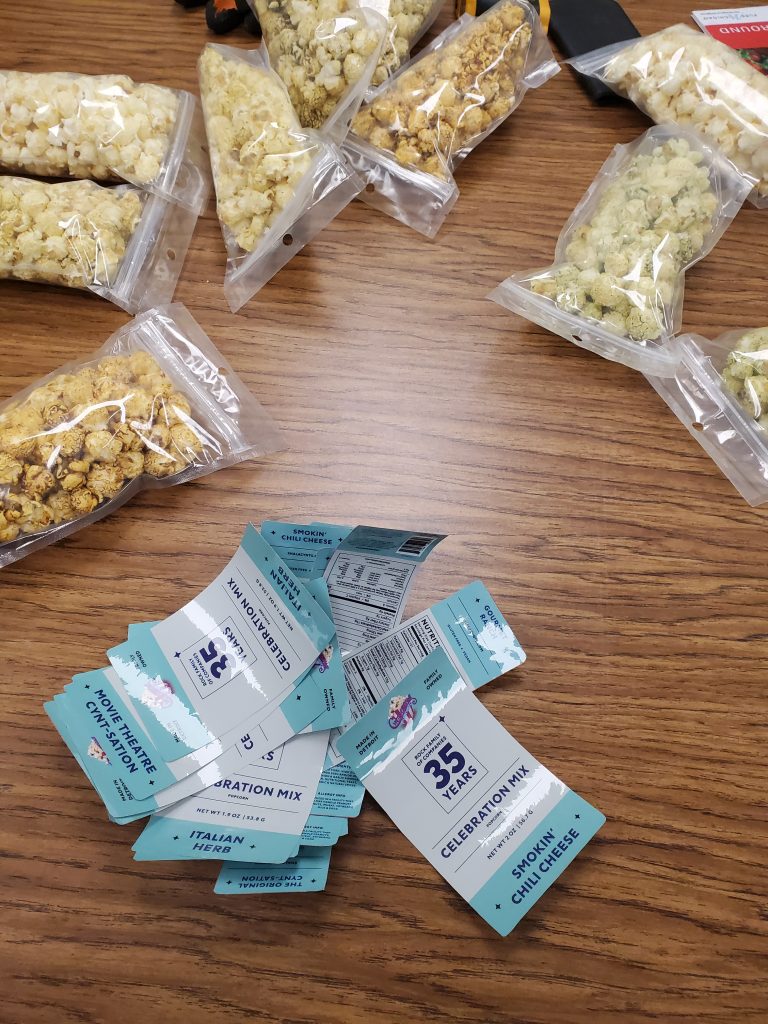 Their hard work paid off. The popcorn was a hit among team members, which led to additional business opportunities in the FOC. Cyntsational popcorn is now included in the gift boxes sent to new interns in the Rock Family of Companies Intern Experience Program, which is designed to give new interns a taste of Detroit while we are still engaged in remote working. Davis was also approached recently to participate in a fun, internal competition where two groups of team members work to develop solutions based on the unique needs of the participating business.
For this experience, eight designers from the Family of Companies were tasked with translating Cynthia's vision for The Cynt-Sational Popcorn Co. and Cyntsational E.A.T.S. into new packaging and wrapping for her food truck. "Based on the product and my vision, each team came up with designs for both the product and the truck. It was a win-win for all of us, and amazing to see my vision come to life," Davis said. The new packaging and truck wrap will be revealed in the coming months.
Finally, there is more good news on the horizon, as The Cynt-Sational Popcorn Co. has broken ground on its first Detroit brick and mortar location at the historical Sydney Bogg building in the summer of 2021.
Entrepreneurial Support Instrumental for Continued Success
The support of the Rocket Community Fund and Rock FOC has been instrumental in empowering Davis and other Detroit Demo Day alumni during the pandemic. For Davis, this came in the form of publicity, new relationships and unprecedented opportunities within the Rock Family of Companies. "Rocket Companies has done a really great job supporting small businesses like mine, and making sure they thrive," she said, "they give you resources and then show you how to utilize them." Davis said she hopes to continue working with the Rock FOC for as long as she can. And we're excited to continue working with her and other inspiring entrepreneurs who exemplify the ambitious entrepreneurial spirit that makes Detroit unique.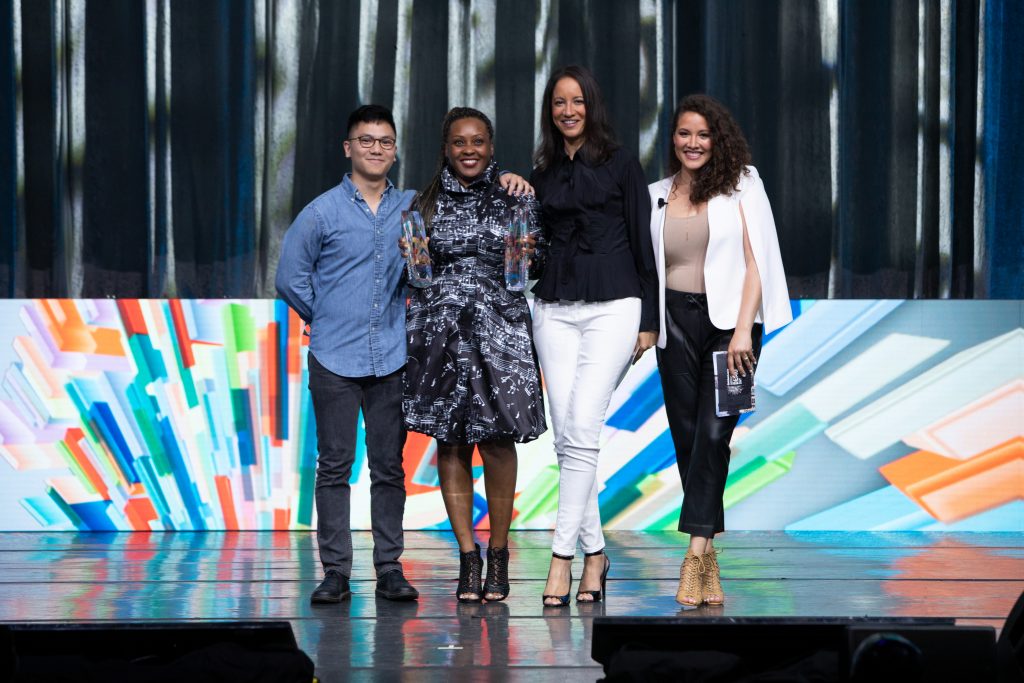 April 22, 2021