As America's largest mortgage lender, Rocket Mortgage believes everyone should have a safe place to call home. That's why, since 2016, the Rocket Community Fund has partnered with Habitat for Humanity International and three of their affiliates to support housing stability and eliminate substandard housing across the country. This support includes investments and additional resources that we provide Habitat for Humanity affiliates in our home cities of Cleveland, Charlotte and Phoenix.
A Shared Vision for Housing Stability and Equity
Habitat for Humanity serves income-eligible families who would otherwise have no opportunity for homeownership. In 2020, the Rocket Community Fund donated $545,000 in support of Habitat's neighborhood revitalization program. This contribution supports local Habitat for Humanity affiliates in our home cities to meet the housing needs of their respective communities, which was critical especially as the housing crisis worsened during the COVID-19 pandemic. 
One of the affiliates we support is the Greater Cleveland Habitat for Humanity, which is dedicated to eliminating substandard housing and providing training and access to resources to help families improve their housing condition.
Since our partnership began in 2016, the Rocket Community Fund and Rock Family of Companies have donated almost $2M to Cleveland Habitat, the majority of which has gone towards revitalizing Buckeye area neighborhoods.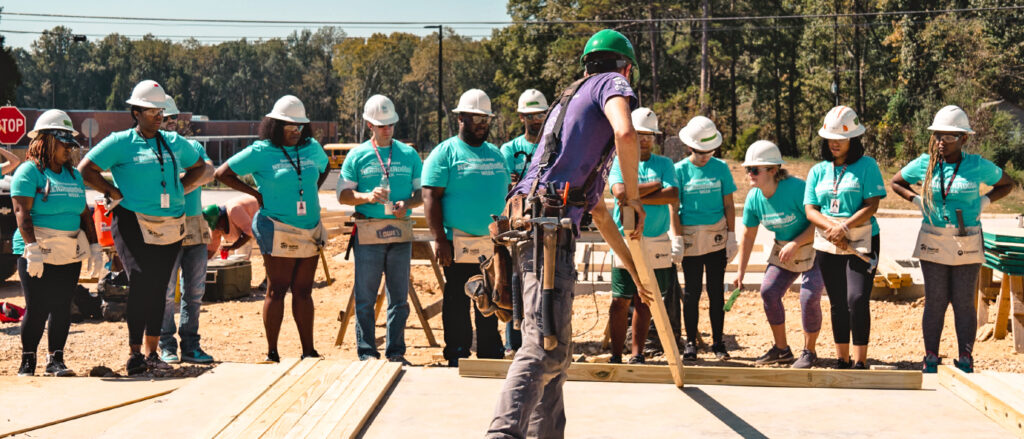 "The Rocket Community Fund shares our mission to provide housing stability," said Peggy Sobul, Chief Development Officer for Greater Cleveland Habitat for Humanity. "They do this through volunteer efforts, providing funding to assist with mortgage payments for families in need of emergency assistance, and through sponsoring the construction of houses to provide affordable homeownership opportunities for families who wouldn't otherwise have the opportunity to purchase a home."
In addition to our investment strategy, a key part of our support is providing team member volunteers to help with neighborhood revitalization projects including minor home repairs and home building for Habitat in Cleveland, Charlotte and Phoenix. Historically, these volunteer opportunities were offered during Neighborhoods Week, a Rock Family of Companies volunteer initiative occurring in the fall that exclusively supports Habitat for Humanity's neighborhood revitalization efforts. Because the COVID-19 pandemic made in-person volunteering impossible, we were forced to reimagine how volunteering would support Habitat's efforts in 2020 and 2021.
New Virtual Volunteer Opportunities to Support Habitat Affiliates
Due to of the COVID-19 pandemic, we transitioned our traditional volunteer efforts into virtual volunteer experiences that would give our 35,000 team members across the country the flexibility to support their communities from the safety of their homes. Some of these virtual volunteer opportunities have included virtual mentoring, reading to children, supporting nonprofit website development and gratitude cards to essential workers.
As part of our Habitat partnership, we met with each affiliate separately to better understand their needs and how we could support their communities safely. One of the opportunities they suggested was letter writing to new Habitat homeowners, recorded book readings for Habitat children and wreath making to provide décor for the newly built homes.
"What's more welcoming than a special wreath made by a volunteer to welcome you into your new home, as a first-time homeowner?" Sobul asked.
Sabrina Warner, a Detroit-based Quicken Loans team member, agreed.
"The wreath making was different in that it gave me the chance to be creative and provide something heartfelt that will create an impact on a new homeowner." She added, "I hope they enjoyed the wreath as much as I enjoyed making it!"
Team members were equally enthusiastic about letter writing for Cleveland Habitat families.
"For me, its imagining someone reading my note. There are so many people that need to just hear something positive or encouraging to keep them going, and if I could be that person, wow! I love helping others and this was a great way to do that," stated Adam Choinski, a Rock Central team member.
"Getting into a new home can be a stressful experience, so I thought a lighthearted card could bring a smile to someone's face," said Amrock team member Kelly Scott. She decided that greeting cards felt more personal than a letter and was happy to get creative in her support of new homeowners.
These targeted virtual volunteer opportunities empower our team members to make a direct, personal impact on Habitat families through unlimited volunteer hours they can use for company-sponsored events. "It's a quick and easy way to do some good," Scott reiterated. "These events can easily be worked into our schedules and give us the opportunity to make a difference in someone's life."
March 18, 2021