The Rocket Community Fund is excited to introduce Team Member Impact Stories, where we highlight team members who are dedicated to making a difference in our home cities and beyond.
The Rocket Community Fund is dedicated to supporting thriving and resilient communities through our strategic investments, and our mission wouldn't be possible without the passion and commitment of our team members.
While all of our team members are committed to making a difference in our community, there are some team members who go above and beyond to impact the lives of others. This is what motivates Oliva Castro, our first team member to be featured in our Team Member Impact Stories.
Oliva Castro: Champion for Her Community
Oliva Castro works out of our Phoenix, Arizona office in Client Experience, and has been with the Rock Family of Companies for eight years. As a Triple Crown Client Care Specialist on our Spanish Refi team, she helps make our Spanish-speaking clients' dreams of home ownership come true. "I love giving back to the community because I simply enjoy helping people. When you realize that each of us has the potential to make an impact on even just one person, simply by giving your time… it really puts things into perspective," Castro says.
Castro's passion is being the "voice" for those who can't advocate for themselves, including children, animals, and the planet. One of the reasons Castro says she loves volunteering is because it reminds her to be grateful for what's important and that not everyone is so lucky.
For the past three years, Oliva has served on the board of the Arizona St. Jude Children's Research Hospital Walk Committee. She has also served as a Wish Granter and volunteer with Make-A-Wish of Arizona for the past 11 years. Her love of nature led her to volunteer and support the Surfrider Foundation Southern California chapters, the Dana Point Festival of Whales Organization, the Ocean Conservancy, and the Pacific Whale Foundation.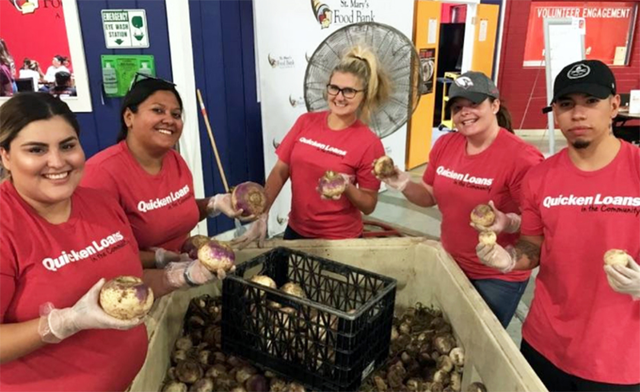 A Passion for Helping Children and Families
Many of Castro's friends and family have been affected by various health issues, so throughout the years, she has made it her mission to get involved with nonprofits that support healing and medical research. She has been involved with organizations like ZERO – The End of Prostate Cancer – Los Angeles Chapter, and Hilarity For Charity, which brings awareness to Alzheimer's Research. During our Rock Family of Companies Community Challenge, Castro was able to fundraise and advocate for two nonprofits she feels especially passionate about: Southwest Human Development and Free Arts for Abused Kids in Arizona. "The name of this organization says it all," says Castro about Free Art for Abused Kids. "To be able to give these children the opportunity to have some fun and escape from the trauma they've experienced – even if it's just for a little while – that's a powerful way to help support their healing."
"I love all the organizations I support, so it's super difficult to pick which ones are my favorites," says Castro. "I would say I especially love opportunities where we can see instant results. For example, seeing the smiles and joy when we grant a wish for kids through the Make A Wish Foundation, or experiencing the excitement from the team and participants when we reach goals for our walks with St. Jude Children's Research Hospital and ZERO – The End of Prostate Cancer." Castro lists a pre-pandemic volunteer experience with Habitat For Humanity as one of her most impactful, as her team got to build part of a house for a Habitat for Humanity Family.
Community Impact Integral to Rock FOC Culture
Rock Family of Companies team members are encouraged to participate in group volunteering, which is a meaningful way to bond with their teammates while also making a positive impact on the community. "I love team events, because it's wonderful to share meaningful impact experiences with my teammates," says Castro. "When we volunteer together the excitement is contagious. We get to have fun and be together all for great causes. That just warms my heart and is such a beautiful thing to experience." (We even offer a variety of virtual group volunteer opportunities so teams can continue to share this experience while working remotely.)
Engaging with our communities through volunteering and fundraising is an integral part of our culture at the Rock Family Companies. It's part of our For More Than Profit Approach: the belief our success is intrinsically linked to our community's success and that we have a responsibility to reinvest in the communities we call home. It's also why we offer team members unlimited volunteer hours through company-sponsored events. "I've heard other people outside the Family of Companies say that they don't have time to volunteer," Castro says. "The great thing about our organization is that they give us the time to do it, and they encourage us to get out there in the community to make an impact."
In 2020, Rock FOC team members donated a record-breaking $1M to nonprofit organizations, illustrating how far our team members are willing to go to support their communities in times of crisis. Castro emphatically agrees with this sentiment. "When we help and support the community and each other, it's just so much easier to get that love and support back. Together, we can do anything!"  
February 24, 2021