One of our key areas of investment at the Rocket Community Fund is education and employment, where our goal is strengthening the education ecosystem to enhance equitable opportunities for residents and small businesses in order to build economic growth and prosperity. "Equitable opportunities" is a particularly important part of that goal. For too many residents, a lack of equitable access to opportunity is limiting their potential and holding our communities back.
Our team is constantly exploring ways to create new pathways that will help generate employment opportunities. Recently, the Rocket Community Fund announced a $150,000 investment in SER Metro-Detroit, a community-based organization that supports thousands of at-risk residents across the city with quality employment, education and training programs. The grant will support educational advancement and upward economic mobility for 160 Detroiters via the SER Construction Talent Hub.
"We are extremely proud and honored to have the Rocket Community Fund as our partner in providing educational and employment services to the most economically challenged members of Detroit community," said Eva Garza Dewaelsche, SER Metro-Detroit's President and CEO. "This grant will help us provide access to a range of educational, training, and employment services that will lead to increased job readiness and employment for impoverished residents that would otherwise not be possible."
The SER Construction Talent Hub has a three-tiered approach, targeting academic, occupational and hands-on construction training skills. This method will address the specific needs of those participants interested in the skilled trades. The goal is to expand the next generation of talent to meet the industry's growing demand for skilled workers.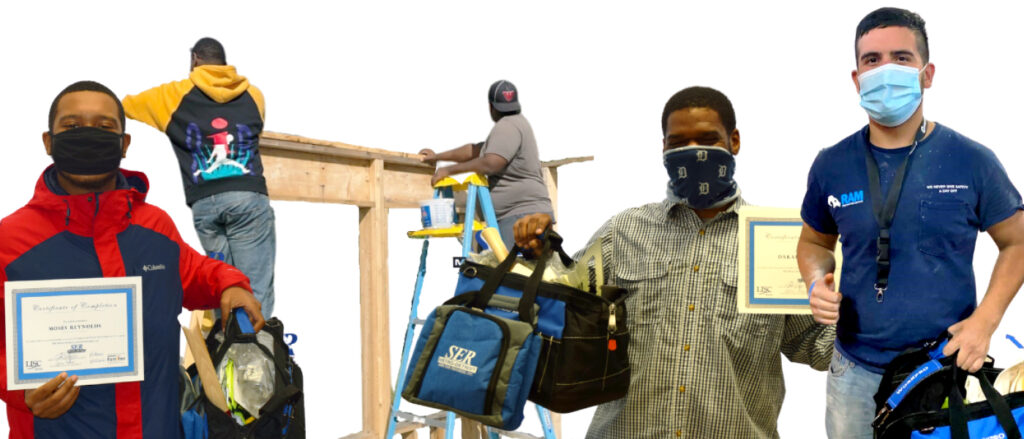 Expanding Our Education and Employment Footprint
Historically, our Education and Employment team has focused on skill building for students and young adults entering the workforce, primarily in the areas supported by the Rock Family of Companies, including technology and client relations. In recent years, we have worked to expand these efforts into skilled trades training. A few months ago, the Rocket Community Fund's dedicated Education and Employment team grew to include Program Manager Kinnus Paul, whose work focuses on skill-building, career development, building capacity for local contractors, and employment opportunities across the construction industry.
Paul and others on the Rocket Community Fund work closely with Bedrock and a variety of developers, contractors and others to develop training and employment opportunities in skilled trades. This work enables Detroit residents to gain valuable skills and play a role in the growth and development of the city. Along with Bedrock and other key stakeholders, we will keep supporting skilled trades as the demand for construction jobs in Detroit continues to grow.
"Quality job training is essential to unlocking new opportunities for Detroit residents," said Laura Grannemann, Vice President of the Rocket Community Fund. "Through our partnership with SER Metro-Detroit, we look forward to supporting hundreds of Detroit residents as they develop new skills and connect with meaningful career opportunities."
We look forward to seeing how this partnership will evolve over time. Opportunities like these are not created in a vacuum, and we are equally dedicated to exploring how skilled trades can better support the education and employment ecosystem. 
February 16, 2021