At the Rocket Community Fund, we know that strong communities start at home, but come to life in the public square. That's why our Public Spaces team works hard to provide universal access to safe and inclusive public spaces that allow people to build bonds with one another and strengthen the resiliency of the community. Unfortunately, this has proven to be very difficult in the face of the ongoing COVID-19 pandemic, as social gatherings have been prohibited or limited due to health and safety concerns.
We know how important this sense of resiliency will be as the community works to recover from the challenges of the pandemic, so we have collaborated with our partners to find safe ways to activate our public spaces this winter season. Recently, Bedrock announced "Decked Out Detroit," a four-month winter program featuring safe and engaging activations, décor, shopping, dining and entertainment.
This multi-faceted program supports local businesses and talent while strengthening connections between people, culture and place.  "It was really important to all of us to be able to create a safe, inclusive space for Detroit residents and visitors to the city, where they could still enjoy what makes Detroit unique despite the pandemic and cold weather," said JJ Vélez, Director of Public Spaces at the Rocket Community Fund.
Read on to learn more about the highlights of this winter program and how Rocket Community Fund provided assistance by developing unique public space activations.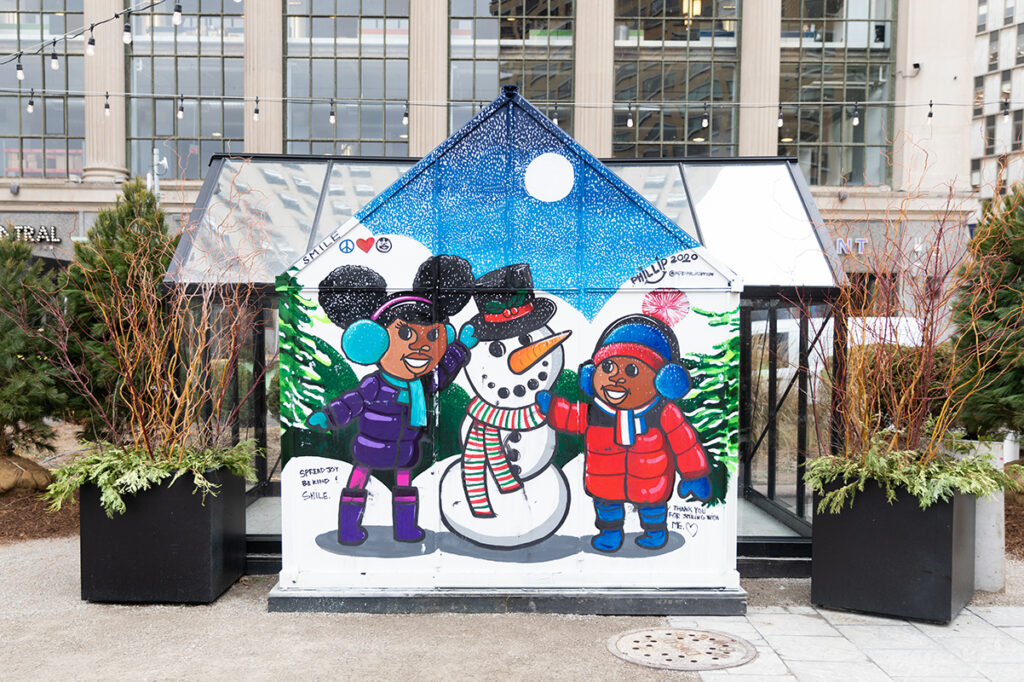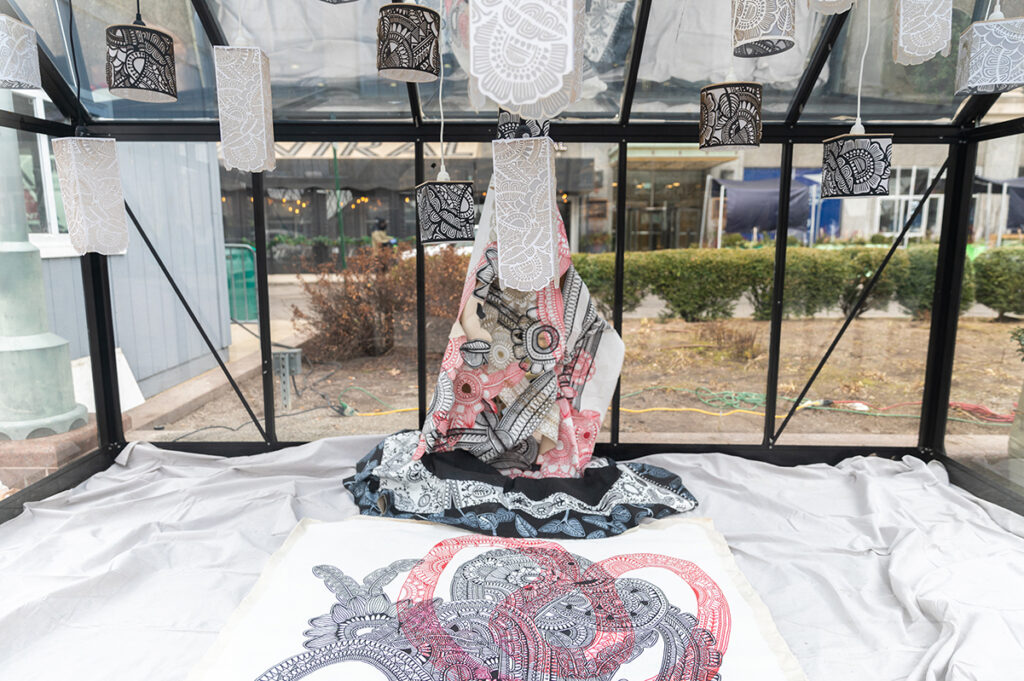 Greenhouses at Cadillac Square
Explore six greenhouses in the expansive Cadillac Square courtyard, featuring vignettes of winter scenes and art installations from three local Detroit Artists. The works of muralist and "smile brand" artist Phillip "Phil Fresh" Simpson, mixed-media artist Olivia Guterson and light artist and designer Patrick Ethen are on display, along with explanations of their pieces and the inspiration behind them.
In a partnership between Bedrock and Design Core, three Detroit artists created festive window displays at 1401 Woodward Avenue. Donovan Dewberry, Angela Cwayna and Ivory Alexander used various mediums to create this immersive, holiday-themed window art that is picturesque and imaginative.
Garden Maze at Capitol Park
This maze is a winter oasis right in Capitol Park, with socially-distanced seating and enchanting décor. Grab a hot cup of coffee, or takeout from your favorite Capitol Park retailer as you take in the sights in this winter garden setting.
Esplanade Light Installations
Enjoy the light installations displayed on trees and on iceberg-inspired shapes that line the edges of a wide walkway which cuts through the Esplanade. One-way paths are designed as spaces for socially-distanced seating where you can take in the scenery and sip a hot cup of cocoa.
Monroe Street Drive-In (Powered by Emagine)
For a limited time, Detroit residents and visitors can enjoy cherished movies on the silver screen in Downtown Detroit. This temporary Drive-In theater on Monroe street also features a concession stand and the availability to order delivery from some of your favorite nearby restaurants.
There's so much more to see and do in our home city. If you're looking for additional ways to engage with the unique city of Detroit this winter, visit the Decked Out Detroit website for more information.
January 22, 2021