Updated on 8/26/20: For a limited time, you can watch and participate in the entire  Detroit Out Loud festival on Detroitoutloud.com
Last year, the Quicken Loans Community Fund introduced Detroit Out Loud, a summer festival highlighting all things Detroit. This year, we're doing it again… virtually.
Conceived by Jasmin DeForrest, Director of the Community Sponsorships team at the Quicken Loans Community Fund, Detroit Out Loud celebrates the art, music, culture and communities of Detroit. "The Quicken Loans Community Fund and Rock Family of Companies are passionate about our commitment to making a positive impact in our hometown," said DeForrest. "Detroit Out Loud is our opportunity to showcase that passion while highlighting the best of Detroit."
Due to the COVID-19 pandemic, we were faced with a tough decision. How could we still bring people together to celebrate Detroit, if we couldn't bring people physically together?
Our solution was to modify Detroit Out Loud to be a special two-day virtual event combining a unique variety of features – from cooking lessons and poetry readings to dance and music performances.
"The pandemic has had a traumatic impact on people all over the world, and we really wanted to bring light and happiness to the people of Detroit and beyond," said DeForrest.
While the majority of the event is virtual, we will also have suggested outdoor activities for families to celebrate safely in and around their own homes.
DeForrest and her team had to get very creative in order to make the event both engaging and avoid "virtual fatigue." In addition to working with her teammates on the Quicken Loans Community Fund, she re-partnered with two creative and event experts who were involved with last year's Detroit Out Loud: Sommer Woods and Melinda "MeMe" Anderson.
The People Behind the Party
DeForrest leads the Community Sponsorships team, whose mission is to support inclusive events and programming that attract diverse audiences, spark connections and contribute to the economic growth of Detroit. "Detroit Out Loud represents that mission," DeForrest said. "I am most proud that we've not only created a fun event but hired Detroit-based small businesses.  The lead production team consists of all Detroit-based small businesses with two founded by Black women."   
Woods owns event management company Solution Architects, which was heavily involved with the production of last year's festival in Rouge Park. "Jasmin really wanted to find an alternative solution to celebrate Detroit culture during a stressful time in our community," explained Woods. "We researched other virtual events and came up with this creative solution to help bring Detroit Out Loud back as a hybrid virtual event."
With 20 years of event management experience under her belt, Woods has worked on large-scale, complex events like the PGA Tour, the Super Bowl and the Detroit Grand Prix. But Detroit Out Loud has a special place in her heart. "Our city has contributed so much to the world and it's important that we continue to share our story," she said. And Woods understands that in this moment, an event like Detroit Out Loud has elevated importance. "During this pandemic, it's more important than ever to give people something to look forward to – even if it's just for a couple of hours."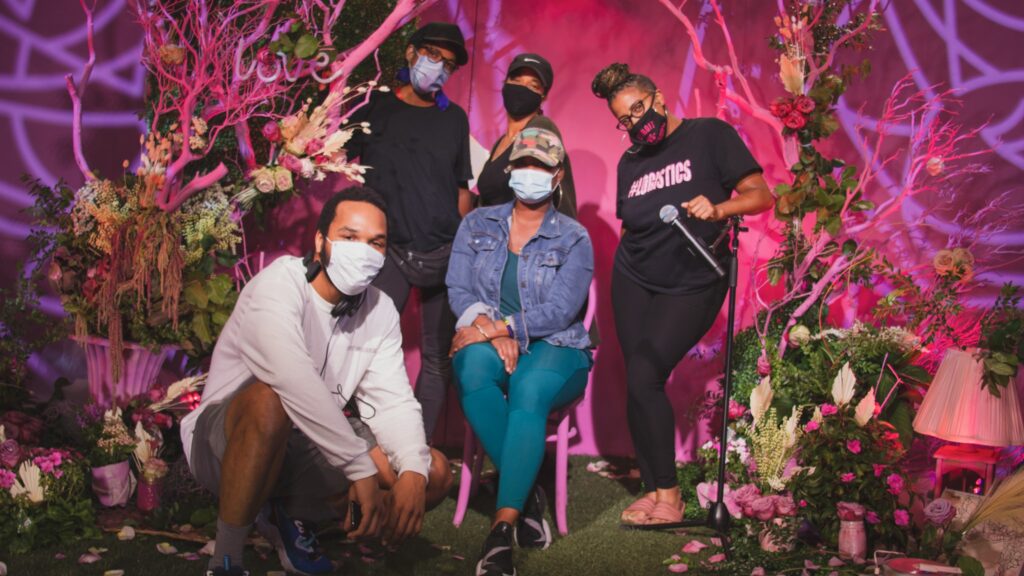 Coordinating a hybrid Detroit Out Loud was no easy feat. As Woods explained, trying to combat "virtual fatigue" was just one hurdle in planning the reconceptualized event. But it gave way to new opportunities for local talent and production companies. "It has been exciting to work with so many artists and creatives on this event, and to partner with other Black Detroit businesses owned by my mentees – one being our Creative Director Aaron Dawson of Passion Management. Watching him shine during this process has truly made me proud."
Melinda "MeMe" Anderson established the look and feel of Detroit Out Loud last year and returned to design and build custom sets for the reimagined virtual event. She has a degree in architecture and has been practicing ephemeral design for 15 years. "My studio, Studio M Detroit, specializes in producing events that highlight and uplift the Detroit community by infusing beautiful moments of art and design," she said. In addition to creating the Detroit Out Loud environment, Anderson designed and built several custom sets that were used to further highlight the workshops and live performances.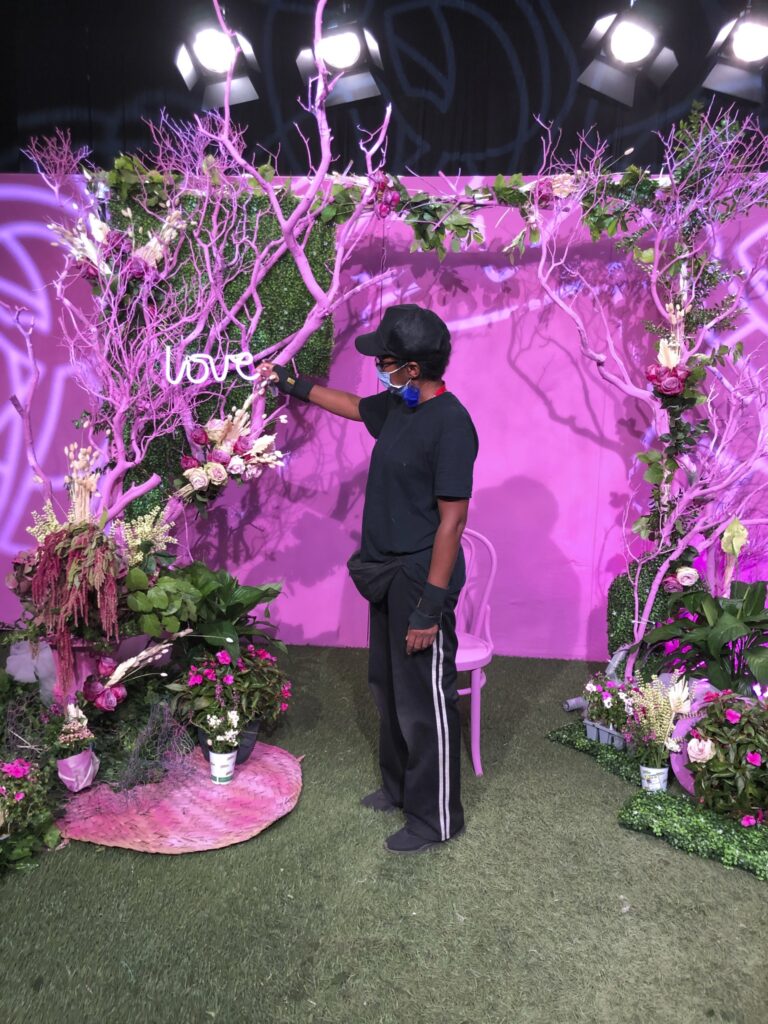 Anderson agrees with Woods on the importance of Detroit Out Loud. "Not only will this event highlight all the positive things about Detroit to the world, we will be showcasing how rich and vibrant our community really is. That's cause for celebration!"
Ultimately, it's the Detroiters behind-the-scenes who are literally "setting the stage" for how Detroit Out Loud will play out this year. "The goal is to create a special moment for everyone to enjoy," said Leah Counts, Associate Community Sponsorships Manager on the Community Sponsorships team. "We want everyone watching to feel pride in our city and to showcase all of the amazing businesses, people, and talent we have right here in Detroit."
A Truly Dynamic Detroit Out Loud
This unique multi-faceted event provides a variety of entertainment for all ages. There will also be a few surprises (as well as some special guests!) making appearances during Detroit Out Loud. Registration for the event is free and open to all, providing a safe and family-friendly experience for everyone looking for a unique experience this summer.  One of the perks of an all-virtual event is that everyone can join, regardless of location.
These unique opportunities for outdoor play include kite flying, sidewalk chalk art and ballroom hustle dancing. In order to encourage families to participate in the outdoor portion of the event, the Quicken Loans Community Fund sent out 313 "GO Time Kits" to 313 pre-registered virtual attendees containing kites, sidewalk chalk and more.
Additionally, Detroit Out Loud will feature cooking lessons, live art, musical performances and dynamic dance presentations from local artists, performers and entrepreneurs. "Detroit Out Loud is such a proud display of Detroit spirit," said April Anderson, owner of Detroit bakery Good Cakes and Bakes and former Detroit Demo Day winner. Anderson will be giving a live baking lesson during the show. "I am excited to showcase our great city and encourage families to participate in this great event." Other live events include painting with Detroit artist Phil Simpson and gardening tips with Malik Yakini, Executive Director of the Detroit Black Community Food Security Network.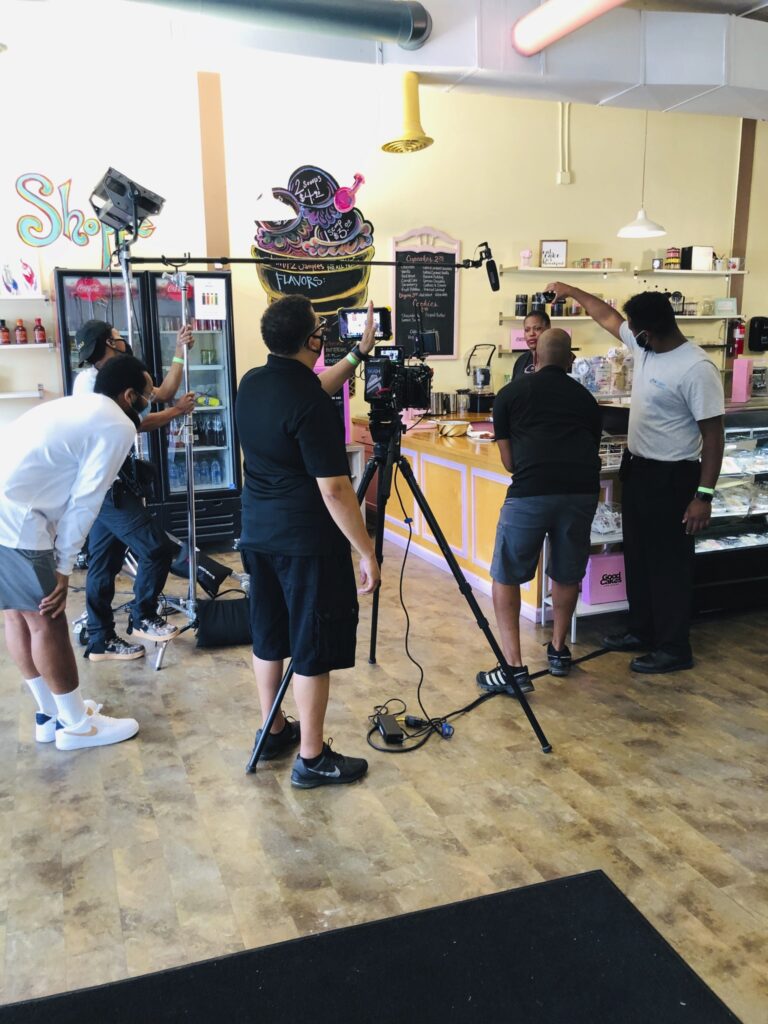 Bringing together such a dynamic and varied group of local talent to highlight is part of what makes Detroit Out Loud what it is. "There's dope talent in Detroit and we wanted to shine a light on them. Being a native Detroiter, it wasn't hard to find talent, but on the flip-side, it was hard because there's so much talent to showcase!" DeForrest explained. "We wanted to create diverse line-up that offered something for everyone, and I believe we've done that. During Detroit Out Loud, we'll be taking the audience on a journey from the east side to the west side with all of the goodness in between." Counts wholeheartedly agreed. "Detroit is such a vibrant and dynamic city filled with talent! Detroit Out Loud is really a chance to display so much of the talent Detroit has and to provide a place for music family and fun in a safe way."
Dwele, Charity, and Raye Williams will perform for the festival, as well as numerous other local and nationally acclaimed performers. Poets jessica Care moore and Joel Fluent Greene will be sharing poems, and Ballet Folklorico de Detroit will be showcasing traditional Mexican dances. Other highlights include a Black Bottom and Paradise Valley tour with Jamon Jordan and Joel Fluent Greene, line dancing lessons from Mr. and Mrs. Smooth, Jit dance lessons, a set from DJ Stacey "Hotwaxx" Hale and so much more.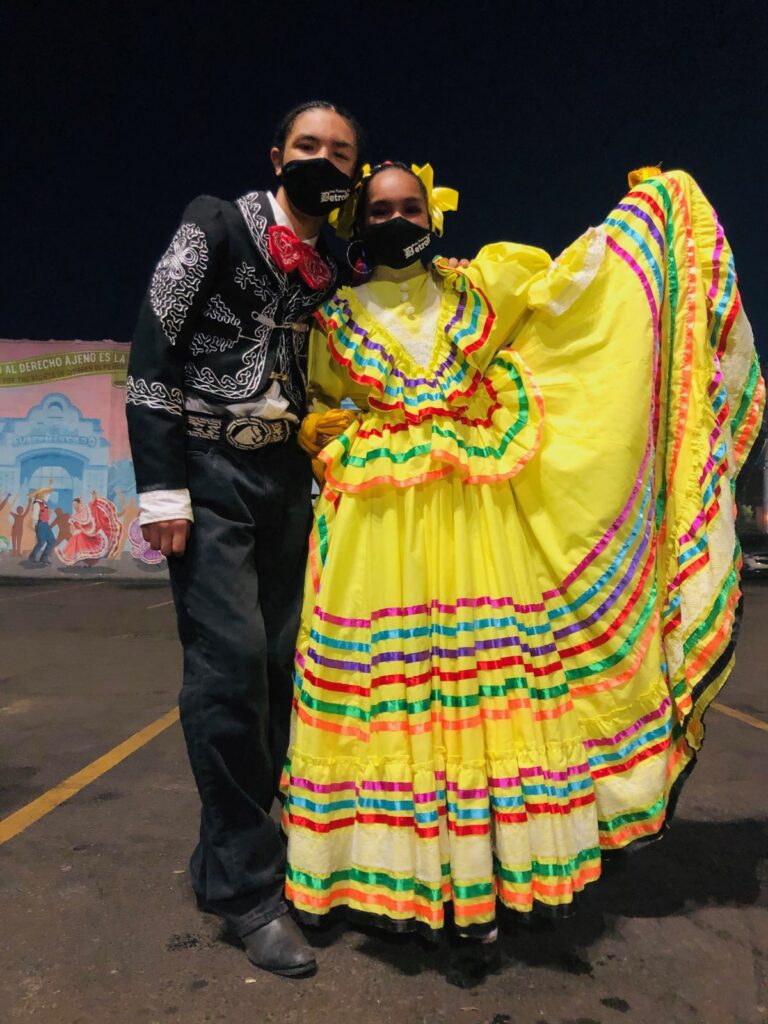 Making an Impact to Celebrate Detroit
DeForrest believes the impact from Detroit Out Loud is twofold: First, the event supports Detroit entrepreneurs, businesses, and talent. The economic benefits will help counter some of the devastating impact that COVID-19 has had on many industries, including entertainment production. Second, Detroit Out Loud elevates the city by highlighting the exceptional talent and culture of Detroit. "What's crazy is that Detroit Out Loud only represents a fraction of the talent here," said DeForrest. "Many concerts, events, catering gigs and tours have been cancelled.  We're supporting local dancers, artists, musicians and restaurants monetarily and by shining a spotlight on their respective talents, crafts and services." 
DeForrest is very proud of how Detroit Out Loud has come together so far, but is hopeful that they can return to an in-person festival at a Detroit park next year. As for Anderson, she wants participants to walk away from Detroit Out Loud with renewed sense of hope for the future. "I hope that they have so much more pride for the city as I do, and also for us to understand how collectively we are stronger because of the moment that we are in." DeForrest reaffirmed this sentiment. "Having built something for the residents and their families to celebrate our city and history by highlighting the rich culture and talent we have here," she said, "that's what it's all about."
Streamed live on August 22 and 23, both days of the Detroit Out Loud festival can now be viewed for a limited time on DetroitOutLoud.com. Watch, participate, dance, bake, make art and enjoy!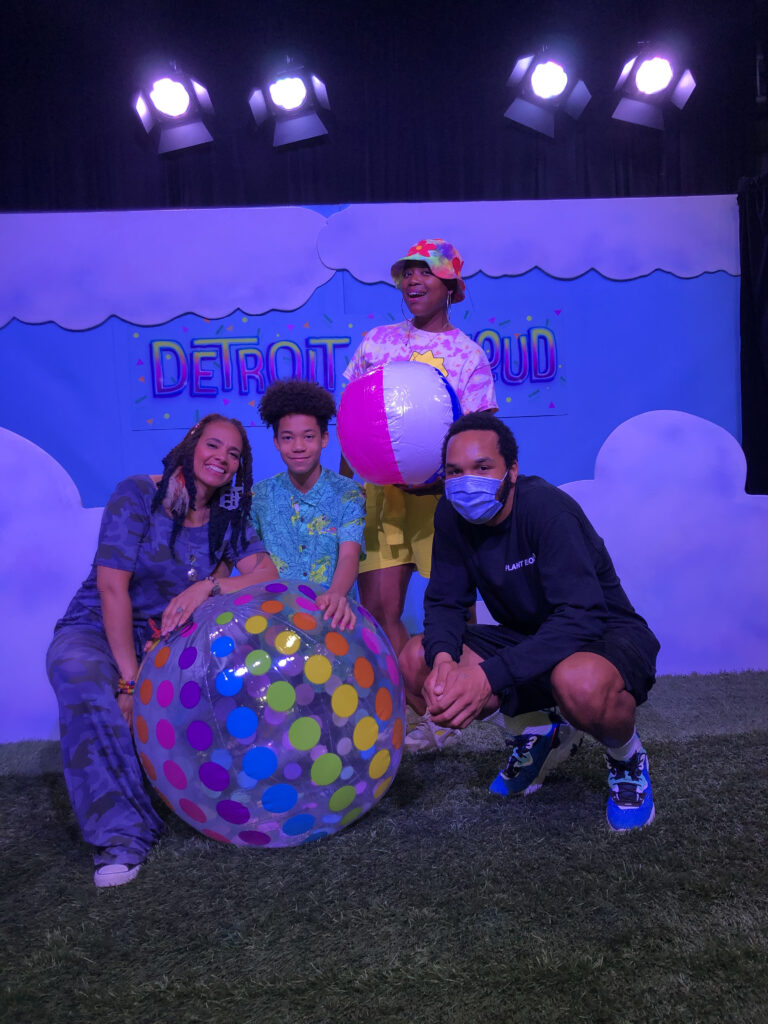 August 14, 2020