Our commitment to building thriving, inclusive communities stems from our For More Than Profit Approach. When we're successful, we have a responsibility to reinvest in our communities. We're proud of the fact that our 30,000 team members feel the same way.   
Our culture drives our team members to make a difference, empowering them to give back and create solutions to support their communities.
The Quicken Loans Community fund has partnered with nonprofit organizations across the country to address the impact of COVID-19, but there are team members who have taken it upon themselves to go above and beyond in this space.
The following stories are from a handful of team members who did just that – took initiative on their own to support COVID-19 relief efforts in their communities.
Along with a friend, he started a local meal delivery service to support frontline workers.​
Kamusa Som, Quicken Loans
At the onset of the COVID-19 pandemic, Kamusa Som knew he had to do something. His family's Cambodian restaurant, Meak Kitchen – located just 500 ft away from the Phoenix Quicken Loans office – was forced to close. "I knew there was a way for me to use Meak Kitchen in a positive way," Som said. He reached out to longtime friend, Derrick Anthony, who had recently been laid off as a result of the crisis. Som knew that if anyone could help him figure it out, it would be Anthony. After just over a week of research and countless phone calls,  Anthony and Som launched Frontline Foods Phoenix which provides meals from local restaurants to critical frontline workers.
This was no small feat: The national organization Frontline Foods has branches in several other major cities, but not in Phoenix – until Som and Anthony led the charge. Meak kitchen was the first restaurant to join the program. Since they began in April, Frontline Foods Phoenix has grown exponentially. "Our Backline operations currently has 64 restaurants, 21 valley hospitals, 12 Fire Stations, over 3,500 Meal Deliveries and about $35k in donations under 45 days for Phoenix" said Som.  Since Som has a full-time career at Quicken Loans, he handles the restaurant onboarding and delivery, while Anthony officially leads the operations and fundraising for the Phoenix chapter. Som and Anthony also raise money within the Phoenix community to pay local restaurants for the food and delivery, and a partnership with international relief nonprofit World Central Kitchen has helped them scale their efforts and ensure that all donations are 100% tax deductible. Thanks in large part to the speed with which the Phoenix chapter has grown, Frontline Foods Phoenix was selected as one of five branches to support a local women's shelter in partnership with five cast members from the popular HBO show, Big Little Lies. The five main cast members are also teaming up with Frontline Foods to sponsor meals for medical workers and promoting fundraising efforts on social as part of the #CastItOn challenge.
Som is proud that Frontline Foods Phoenix is being recognized for the work they're doing to support hundreds of businesses and frontline workers. "The community has been amazing," he said. We all have one motivator: to make a difference." 
He ran his own 10k to raise money for COVID-19 relief efforts.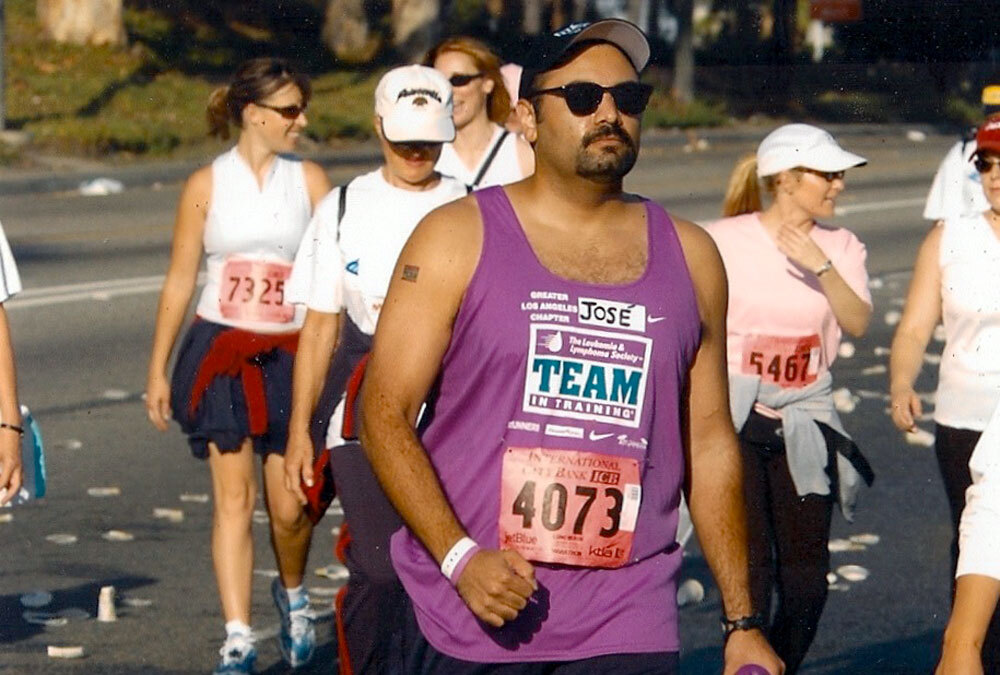 Jose Guzman, Quicken Loans
"I'm running for the state of Michigan. I'm running to support our Governor and the administration. I'm running to support our health care workers," Jose Guzman said.
The impact of the pandemic compelled Guzman to reach out. "I felt equal parts powerful and powerless," he said, explaining, "powerless because I've seen so many people struggling and I felt like there was nothing I could do to help anyone." Yet simultaneously, Guzman felt powerful: after nearly a decade off, he picked up running again. He said he has run more in the past two months than he has in the past two years. "But I think I can do more. I think we can all do more."
Inspired by everything Michigan Governor Gretechen Whitmer was doing to slow the spread of the coronavirus, Guzman decided to use his rediscovered passion for running to support COVID-19 relief efforts. This was not unfamiliar territory: for years, Guzman had fundraised by running marathons for The Leukemia and Lymphoma Society, and the American Cancer Society. While it had been over a decade since he'd last completed a marathon, he knew he could handle a 10k. Of course, all marathon events had been canceled as a result of the pandemic. So why not, he thought, run his own 10K to raise funds for Michigan's COVID-19 Response and Recovery Initiative?
He announced his plans via Facebook about a month ahead of the event, and tracked his runners' journey on a blog. On June 7th, he livestreamed his #10kforthemitt treadmill run on Facebook and asked friends, family members and followers to donate to the Michigan Covid Relief Fund. Guzman's goal was $10k; he knew it was an ambitious ask and hoped to raise at least a few hundred dollars.  At the time of this publication he had raised a total of $1,090.
Guzman said that he felt supported by the culture at the Family of Companies, "There are so many opportunities to give back. Everyone can do it," he said, adding, "so here was my opportunity to do something to help make a difference."
They each created and distributed PPE to family, friends, and healthcare workers.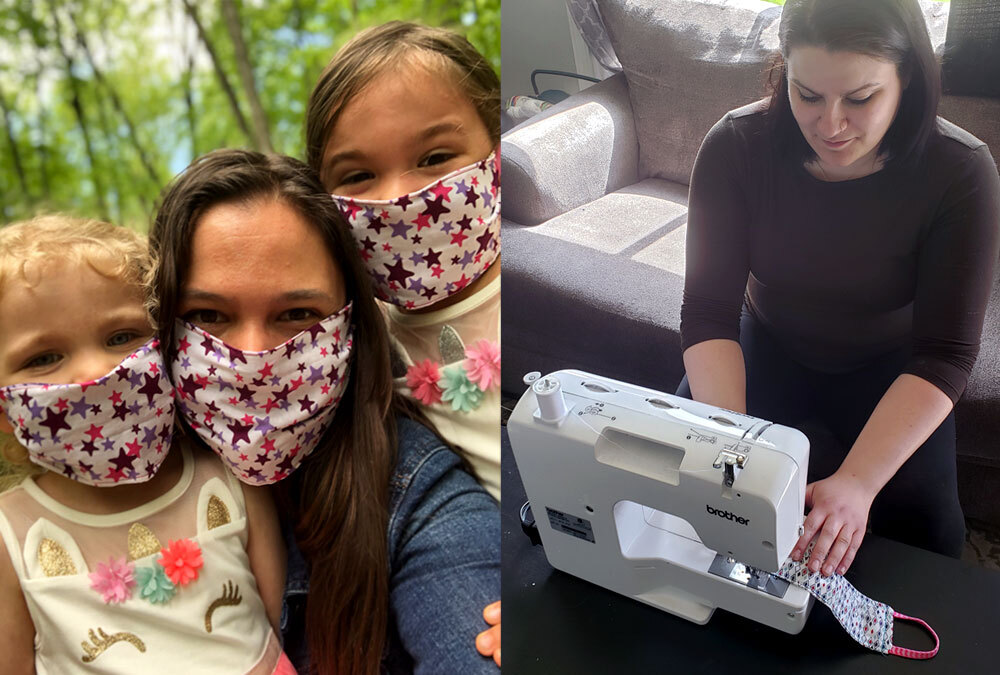 Katie Hersh, Amrock, and Allison Kovach, Rocket Homes
Katie Hersh and Allison Kovach don't know each other. They work for different companies within the Rock FOC. But they have something in common: both used their passion for arts and crafts as to address the impact of COVID-19 on their communities.
When a friend's mother began posting asking for donations of handsewn masks due to a shortage of PPE supplies at her daughter's hospital, Katie Hersh knew she wanted to help. Hersh loves crafting, so she quickly stocked up on fabrics and began sewing. Hersh then started donating her handsewn masks to local nurses in the metro-Detroit community that she connected with on social media. Additionally, she has been giving masks to friends and family who needed them. Since mid-March, Hersh has made several hundred masks, and the work has come with some unexpected benefits: it's been a bonding experience for her family. "It's been amazing partnering with my two daughters, Piper (5) and Lana (3). I've let them help pick out the fabrics we use to make the masks with. I grew up watching my mom sew – that's how I learned." Hersh's experience has inspired several of her friends, many of whom had never sewn before. "They went out and bought sewing machines and fabric and started making masks on their own," she said. News of Hersh's work quickly spread at Amrock as well. She was recently featured in a company-wide instructional video showing team members how to easily make masks themselves. "This was an easy way for me to make an impact on my friends, family and community – but also on my team members," she said, adding, "there are so many ways to get involved in the community; you just have to get a bit creative."
As for Kovach, she stumbled upon mask-making almost by accident, after a friend reached out asking for one. In addition to working at Rocket Homes, Kovach runs a crochet shop on Etsy called HunterHouseDesigns. "My friend asked me if I was making masks. I agreed to make her one, traded in my crochet hook for a sewing machine and got to work!" Soon, the requests from other friends came pouring in, and Kovach realized how deep the need was for PPE equipment. She began researching local hospitals that were accepting handsewn masks. "It made me feel terrible knowing that hospitals were so lacking in supplies, and those risking their lives for us didn't have even the basic equipment to keep them safe. I have the time, ability and resources to pitch in, so I stepped up."
About a month into her project Kovach began donating mass quantities to local hospitals, gifting some to friends and family as well as selling them on her Etsy shop. For every mask she sold on Etsy, she donated one to those in need. She has also been making and donating scrub caps to nurses who reach out to her. Her boyfriend serves as her "shipping and supply coordinator," cutting out patterns, packaging and shipping the supplies to local hospitals.
Kovach was overwhelmed by the support from her team. After sharing her story at work, she received over $200 in donations within a few hours. "That paid for about 40 scrub caps!" she said, adding, "I never really realized how big my village was until I needed to lean on them. Now I know I can always count on my team members to support me." Another bonus: since Kovach was able to log her time volunteering in the company volunteer platform, she eventually hit a special "Dollars for Doers" milestone. This benefit of the Rock FOC volunteer program encourages team members to volunteer on their own by awarding them a $250 grant they can give to the charity of their choice once they hit a certain number of volunteer hours.
To date, Kovach has made around 700 masks and 300 scrub caps and plans to continue making them as needed. Kovach credits her team members for making a difference by supporting her throughout the process – either via donations or words of encouragement and gratitude.
These are the team members who are truly living the tenants of our culture by making a difference every single day – something that, during a time of unprecedented crisis, is all the more powerful. As Kovach said, "No impact is too small. Every little bit helps." Perhaps Guzman summed it up best. "If we're not here to make the world a better place, then why are we even here?"
June 10, 2020